New Line Cinema
Director: Sir P. Jackson
Visual Effects Company: Weta Digital
Job Title:  Lead Lighting Technical Director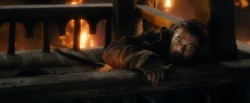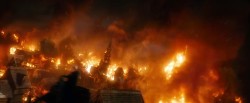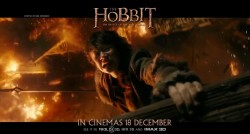 I was lead lighting technical director on the Laketown destruction / Smaug's death sequence.

The above are some of my shots and some other public shots from this sequence.

(All images are from the published official trailers)

closing the Hobbit Saga is a bit more for me than just any other movie I was working on:

14 years ago the Fellowship made me leave the game/commercial world behind to start working on high end VFX for movies. My goal back then was to work for Weta Digital in Wellington/New Zealand and some day might work on big movies like the LOTR was.
Now, almost 15 years on, just finished working on the last piece of the Hobbit trilogy. I am filled with very mixed feelings of relief, nostalgia, fulfillment, happiness, sadness, confusion but most of all I am really proud I could be part of this journey. It was an other impossible task for us (who else does 1000+ shots in 4 weeks in this industry besides Weta?) and I am humbled I could "fight" in this war together with some of the most talented people in the industry whom I also consider friends.

All images on this site are the property of the clients for whom they have been produced. They may not be copied or reproduced in any form without the express written consent of the individual copyright holders.